Mokabox: the monthly box of vintage coffees
You are already familiar with the traditional distribution channels for coffee: medium and large stores (unfortunately), local burners or roasters, and the Nespresso model (again unfortunately). It is time to add to the list a new model, that of online purchase in the form of monthly box. There are not many offers, in any case, they lack visibility.
Today we will discover the Mokabox, a monthly box of vintage coffees, also available in bio. The Mokabox is a family story, because behind the bags of roasted great vintages deposited in your mailbox, it is 20 years of family expertise.
The subscription formulas
Sold in 2021 between 9.8 euros for 1 month, and 142.8 euros for 12 months, there is a wide variety of formats to purchase. It is 5 modes of grinding and 1 to 15 coffees per day. For the product test, we asked for something simple, on the standard formula of the monthly subscription 200 grams of coffee beans.
As for the Redak Oblikon, if you have a grinder, the ideal is to buy your coffee in beans. Flavors develop quickly during the grinding process, so it's best to grind at the last moment. It is also possible to buy on different grind sizes: fine for espresso machine, medium for filter coffee maker, or large for piston.
The coffee is also sold in Nespresso compatible capsules. Note that we can only advise you to change from a Nespresso machine to an automatic machine . It' even cheaper in the medium term 😉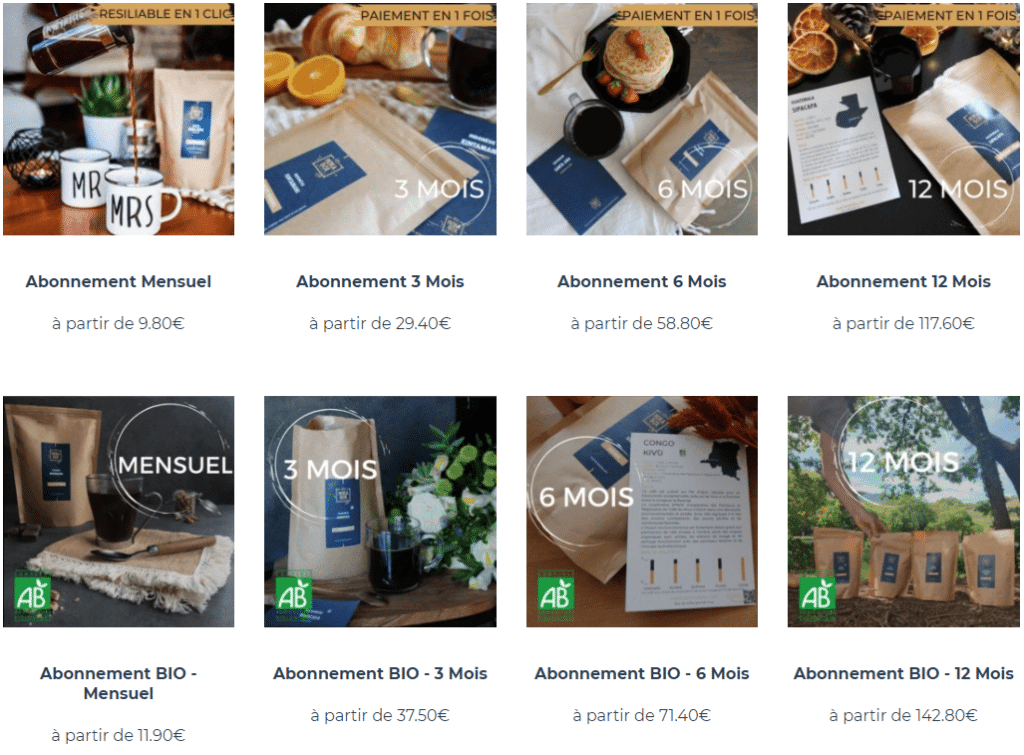 For heavy coffee drinkers, or companies, you can go up to 3 kg of coffee per month, or 15 coffees per day. The very interesting box that we recommend is the DUO classic and organic coffee available from 3 months subscription. An ideal gift.
What are the coffees offered by Mokabox ?
Mokabox only offers coffees called Grands Crus, which you can combine with an organic certification (3 euros more per month). What is a vintage coffee ? Firstly, it is a coffee that has not been mixed with other varieties, terroirs, cultures. It therefore bears its precise location, the producer and its name: Papua New Guinea – Sigri Cooperative – Wahgi, Congo – Cooperative of Coffee Planters and Traders in Kivu – Kivu, Peru – Nelida Zurita Puelles – Amazonas, Indonesia – Klasik beans – Java.
Secondly, these coffees are natural, that is to say without any additive or flavor enhancer.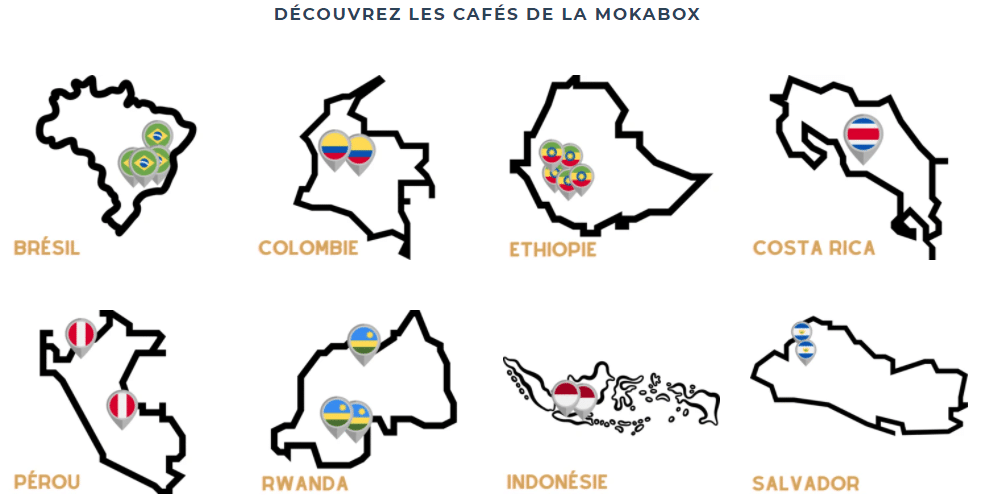 The coffees are imported to France, and roasted in an artisanal way only. This is a guarantee of quality, contrary to the capsules and coffees of large surfaces.
Simple and efficient packaging
For a box of 200 grams, the cardboard packaging is reduced to a strict minimum (and that's fine). Direct delivery in letter box since the letter carrier could insert the parcel directly. What is not the case of many boxes with less conventional formats.
Note that the folding is done by a ESAT, therefore promotes the integration through work of people with disabilities.
Inside, three things:
coffee, of course
a summary of the coffee received
a little postcard-sized note
The test of the cup
The coffee we received this month comes from Papua New Guinea. Either on the other side of the world… yes, coffee is a luxury that is unfortunately far from being eco-responsible unless you live on the production site… This coffee is grown by the Sigri cooperative at 1500 meters of altitude.
Wahgi is simply the name of the valley where this coffee is grown. Note that this is a Typica variety, a variety of Arabica very typical and recognized by connoisseurs.
Tasting method: the beans are ground directly from a DeLonghi machine (ECAM23.120.B). The coffee dosage is set to medium, and by habit the cup will be a rather long espresso. We are not on an ultra tight coffee but on a longer percolation.
This in order to bring out more aromas.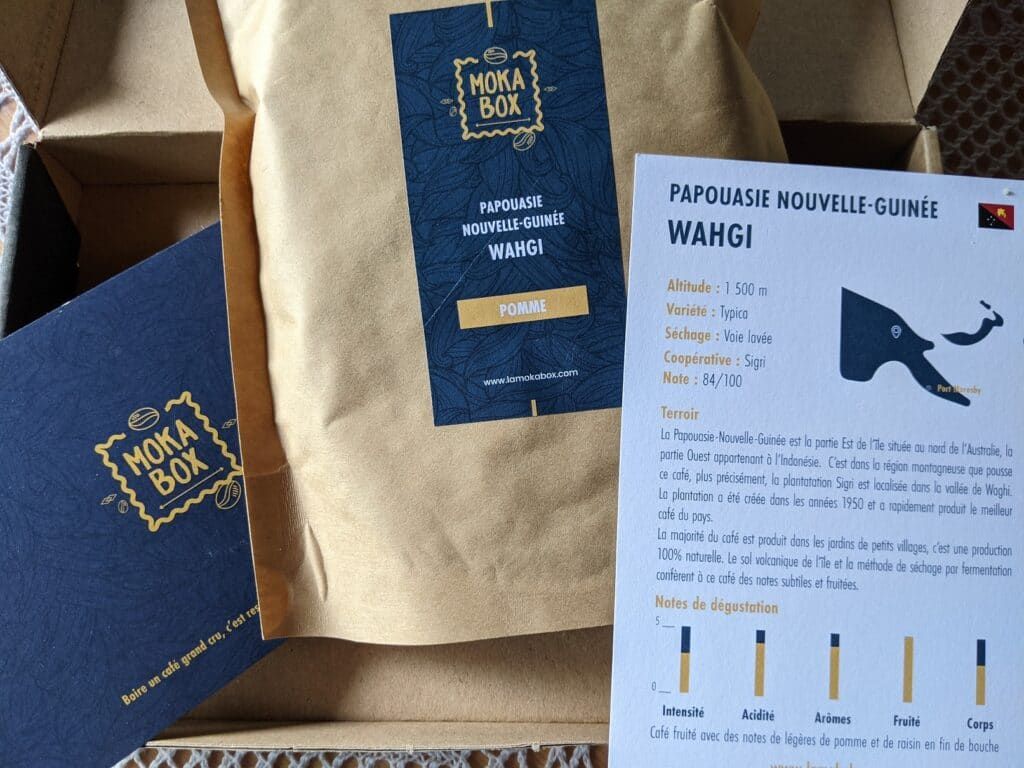 Result: the coffee is very well balanced. Not very intense, it is perfect for breakfast to awaken the taste buds. It is the very acidic and fruity side that stands out the most when tasted with notes of apple at the end of the mouth.
The tasting associated with a slice of bread with jam highlights all the more the freshness of this coffee grand cru.
Review and opinion of the Mokabox coffee box
Very satisfied ! The many customization options make the Mokabox extremely accessible to all coffee makers. Especially since the price is quite honorable. The standard box is 9.8 euros for 200 grams or 49 euros per kilo.
Service and delivery included, it is about 30 cents per cup of coffee on average. Not to mention that the price is necessarily degressive if you order larger quantities.
0,3 euros, it' already cheaper than a classic Nespresso capsule ! You can check the price positioning of Mokabox by following the last column "coffee beans at 10 euros per 250 grams" of the article available here.
The coffee is also of very high quality and meets expectations. Find the box here for yourself or to offer 😉
You can go there with your eyes closed: family business, quality of coffee sourcing, artisanal roasting, ESAT insertion, good choice of offer.